Testamonials!
I feel so immodest printing them! I do enjoy teaching and the students that seem to find me. Some have come from as far away as Montreal or Toronto! I guess they see the pictures of my work and feel that we will speak the same language.

Hi Janet,
just a word to let you know that I spend such a nice day! I had a lot of fun with your hilarious sense of humor; I learned so much and it was so stimulating. The group was so nice – I enjoyed being with everyone. I was pure happiness today. You have a very nice personality, are very talented and we just want to be with you. Thank you so so much! Lucie Lacelle
Janet:
Just a quick note to say thanks for a great workshop. I really enjoyed the experience and feel that I learned a lot. Your teaching technique is excellent. I'd highly recommend this course to anyone. Your home is such a welcoming and relaxing environment for learning. Thanks again, Janet. Bridget Brennan
Thanks so much for all the info, Janet! I know what I'm putting on my list for Santa!!!And thanks again for a wonderful weekend! I was exhausted and sore when I got home but feel so good about all the learning. As I mentioned, I love your teaching style. And while I cannot criticize the folks at the Kingston Weaver's Guild, your methods seem to be so much simpler than those I was taught before. I will keep an eye on your site for other workshops and will recommend you highly to anyone I know who is looking to learn some new skills!Take care, everyone! Hope our paths cross again! Christine Chevalier
Thanks so much for such an enjoyable weekend of weaving. I was so pleased with my progress over the 2 days because of your teaching skills. It could have been a difficult experience but you made it so easy. You are a fantastic teacher. I like the way you made me do everything myself so I was able to learn how to do it. From Erin.

How to enroll for a class
Try to enroll 2 weeks before a class, this gives me the time to prepare materials and the work place. Occasionally it is possible to apply closer to the time. Payment in full guarantees your space. You can etransfer to handweaving@gmail.com, (it is automatic deposit, so no question and answer is necessary) or phone in your credit card # to 613-448-3733 or send me an old fashioned cheque to Janet Whittam, PO Box 253, Chesterville ON K0C1H0. If you have to miss the class after payment is processed, you can have a credit for another class. Please make sure I have your email address as I send more information about the class closer to the date.
Class dates for 2023. Scroll down for more information
Coiled Basketry Jan. 5
Uncomplicated (Loom) Weaving Jan.14, 15
Make a Basket from Magazine Pages March 30
Make a Rib Basket Using Native Materials Apr. 30, May 13
Weave a Birdhouse, May 27th
Market Basket Class June 10th
More dates to follow.
UNCOMPLICATED WEAVING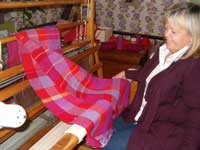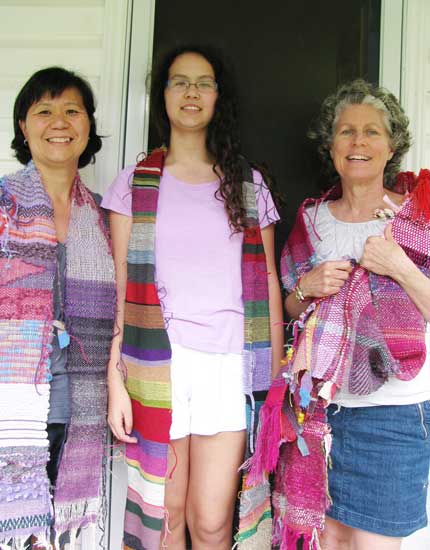 Hopefully we will be able to have a class Jan. 14, 15, 20023, 9.30 am to 4.30 pm each day in my studio near Chesterville, Ontario
– Cost is $200.00, which includes materials. Please enroll at least 2 weeks in advance with full payment at that time.
– The class is for absolute beginners and people who have had some weaving experience. The class outline is simple. Every student makes a warp on a warping board, sets up a floor loom and weaves a project. I like students to work on the kind of project they want to learn how to do. Some choices from the past have been tea towel, rag work (using strips of cloth as weft), simple patterns and plaids, random warps, etc. It is my hope that each student chooses something different, that way the class as a whole covers a lot of possibilities.
– My theory is that weaving is not brain surgery and I teach a relatively fast and easy way to do it. I pass along what I have learned in 50 years of being a weaver.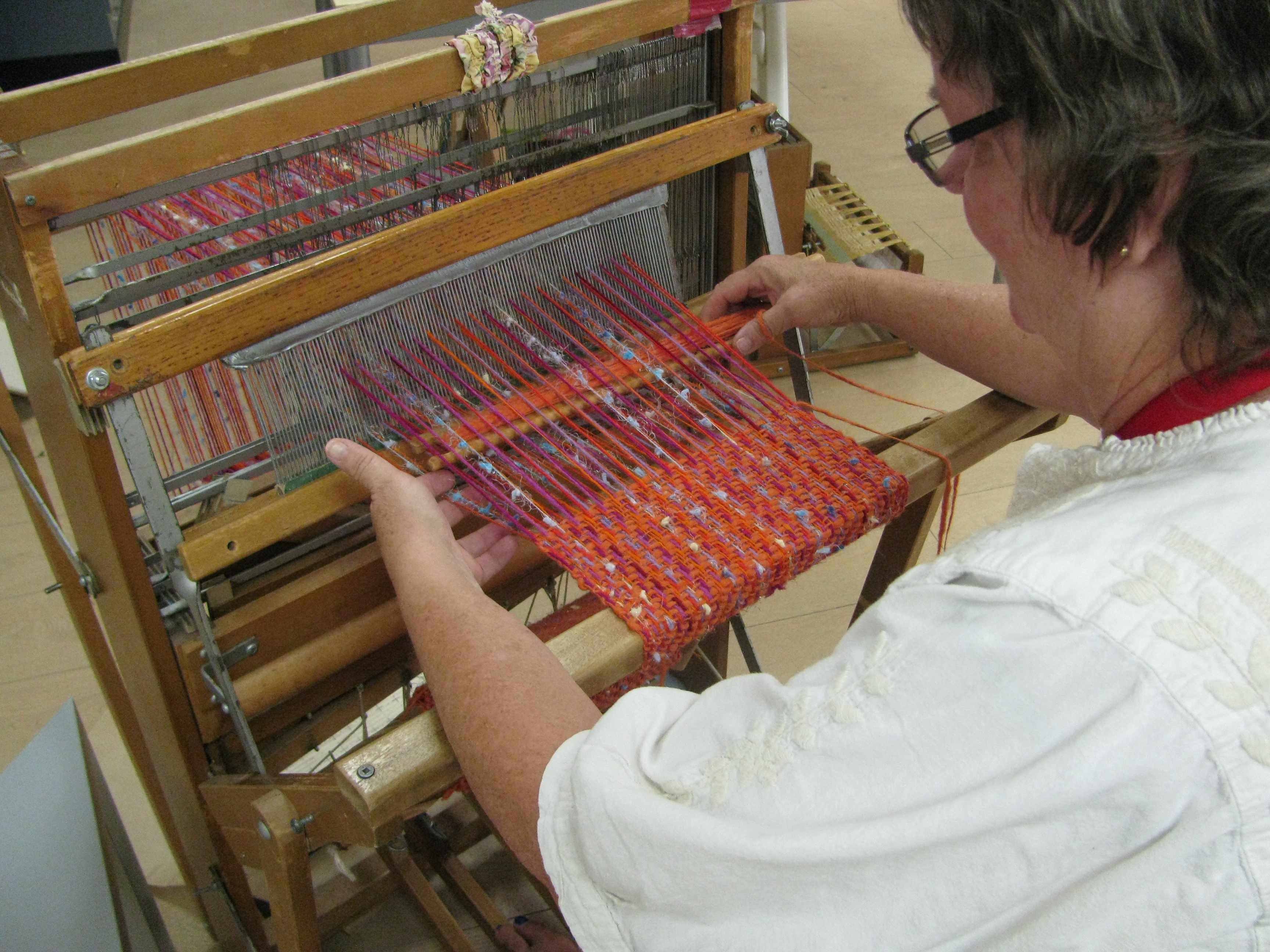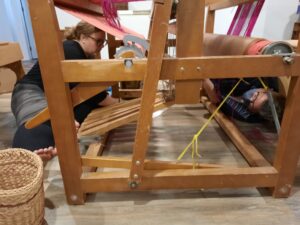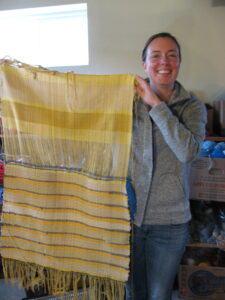 Make a Basket from Magazine Pages and other Upcyclable Materials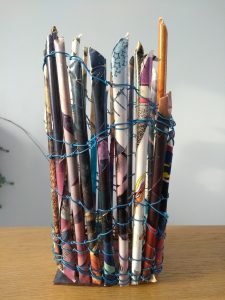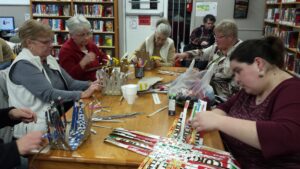 March 30.
We will be weaving a basket from from magazine pages. It would be helpful if you brought any or all of the following, a magazine, a knitting needle, scotch tape, and a pair of scissors.
the class will be held at the Nor Dunn/Carefor Centre in Winchester as part of their social activities programming . Cost is 15.00.
Mar.30, 2023. Time 1-3
To register, please phone 613-774-6109

My workshop proves that Basketmakers have always used materials they have found in their environment. In this case, the results are often very attractive. Think of how scraps of cloth make a beautiful quilt, to get an idea of how the finished piece will look. Traditional Basketry techniques with modern materials. Older children welcomed with an adult to help.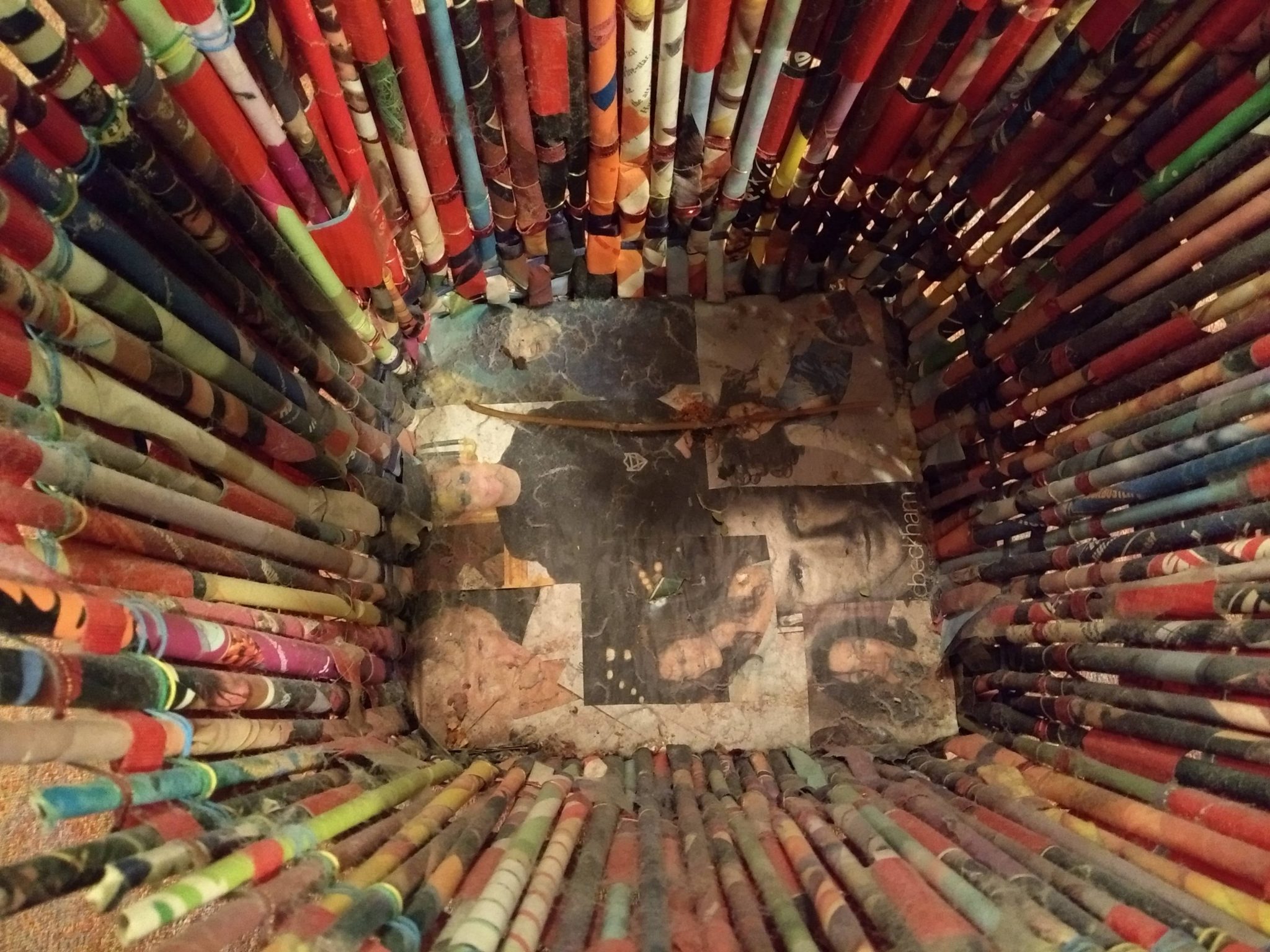 Creative Coiling, .
DATE Jan. 5, 2023. Time 1.30-3.30. Location 517A Albert St. Winchester. Please call to register 833-922-2734. This class is partially subsidised by Carefor and the cost therefor is 15.00
Coiled Basketry technique is probably the most open ended basketry technique, any shape, any size is possible, almost any material, and changes in design or material are easily done. Please bring a towel, a darning needle and a pair of scissors. I will be providing long pine needles, linen thread and rafia for stitching, and a lotus seed pod for a lid if desired and also lots of other kinds of materials.

Make a Rib Basket using Native Materials and Beyond the Basic Rib Basket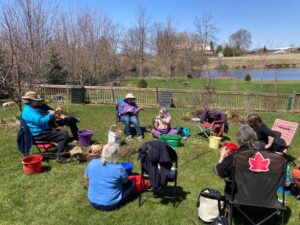 Date ,Apr 30th (this class is now full) and May 13, 2003. Time 9.30 to 3.30 Cost 85.00
We will follow any current Provincial guidelines pertaining to Covid. We can work in my backyard or the garage if it is raining. Please contact me if you are interested in any other dates, weekdays are also possible.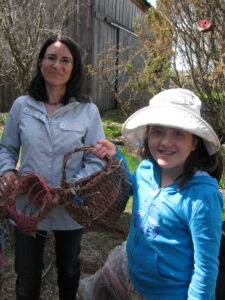 I find the Rib Basket technique is very forgiving for beginners and also very adaptable with regards to making purely functional baskets, or decorated art objects or something in between..
I have decided to have this class be a "multilevel" Rib Basket Classes,
Beginners will make a smallish rib basket, with or without a handle, and those with some experience can try a flat back basket to hang on the wall, or a tray shape or a funky free form shape or a 4 section base basket using Rib Basket technique. We start off with a "Gathering" expedition to a near by wetland at 9.00. Let's hope the path will be drier than it is right now. Rubber boots could be definitely in order! Note: In the months of May, June and early July there are just too many mosquitoes to undertake the gathering expedition, but, don't worry, for these class dates, I will have previously gathered materials for you to use.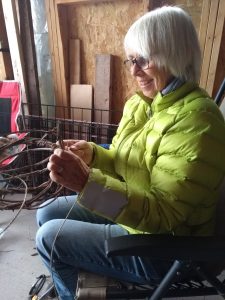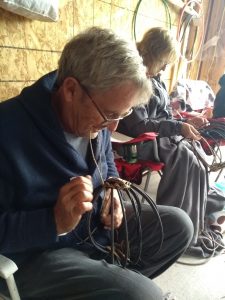 The cost for this class is 85.00, This includes all materials and is due ASAP in order to ensure a space in the class. This can be paid by e-transfer, a cheque in the mail, or credit card # phoned to me. I will also have materials for sale.
We will meet at 9.30 gathering or no gathering and the class goes to 3.30 . The class takes place in my basketry studio, near Chesterville, Ontario.
Please bring your lunch, garden shears or kitchen shears or clippers, waterproof footwear for the gathering portion and wear clothes that could possibly have dye spilled on them. Wear layers in case it is warm or cold and bring a sun hat if that seems like a good idea. We can work in my garage or covered porch or laundry room area in case of inclement weather, but it is great to be able to work outdoors.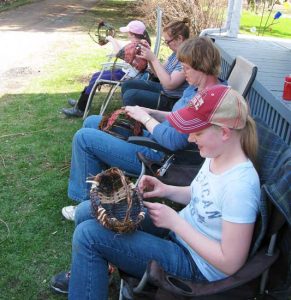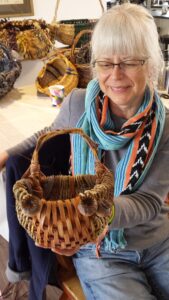 Weave a Bird House using 2 Different Basketry Techniques
Date May 27th 2023. Time 9.30 to 3.30. Cost 85.00
The students will weave a birdhouse primarily using rattan and a twining technique. This is a very user friendly project, and the birdhouse will be functional or purely decorative as you choose. The roof will be coiled using long pine needles or rattan, again, your choice. The 2 techniques will allow you to weave other types of baskets in the future and there will be materials for sale. If there is enough time I will teach you how to weave a garlic basket
The cost includes the materials for this project.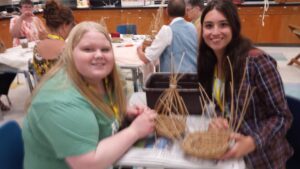 birdhouses and roofs waiting to be assembled.

Berry and Market Basket Class
Dates June 10th, 2023, This class is now full. Ask to be put on the cancellation list Time 9.30 to 3.30 Using the Stake and Strand and Twining Techniques, each student will make a functional basket out of Rattan with a handle. Class time is 10-4 and location is my studio near Chesterville On. Cost is 90.00 for the Berry Basket and 100.00 for the Market Basket which is larger. All materials will be provided.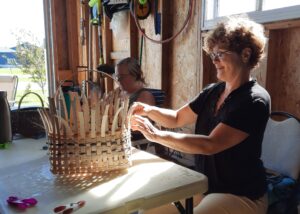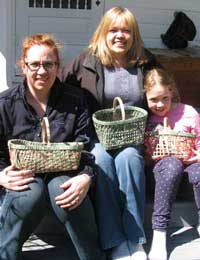 Testimonial:
"I really enjoyed weaving at your house, and just being around you and John was a pleasure. I would go again for another workshop. I did more in one weekend than I would have thought possible. Thanks for making it feel so easy. You have helped me build my confidence, exactly what I need." Marie-Reine