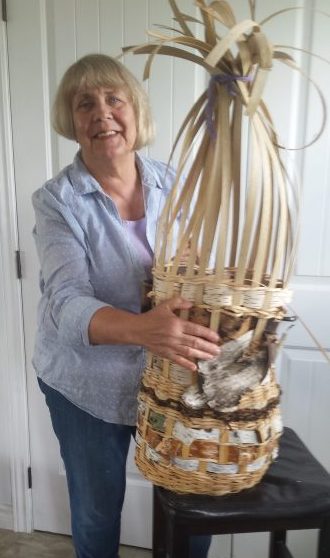 My grandmother was a weaver and I think a love of textiles is in my genes.
I started weaving in 1972 after a few classes from Robert Cawood in Toronto. In the autumn of that year I moved to the countryside south of Ottawa and since then have been refining my skills and re-defining my products.
In my work, I have developed weaves that are sturdy but drape well, rag rugs and household linens that will withstand decades of use. I use natural fibres in rich colours, and locating materials is a constant preoccupation. I take pride in finishing techniques that ensure a long life for the product.
Customer service is a priority in my business. Custom orders teach me a lot as I stretch my techniques to meet particular requirements.
In the past 3 decades I have also been weaving multimedia baskets full of colour and texture. Many of the materials I use for basketry grow in my garden, and others are gathered on my travels.
I have studied with many fibre and basketry artists from Canada, the United States and around the world. Under contract with the Canadian government, I was a weaver at the 2002 World Summit in Johannesburg, South Africa .
Teaching is something I really enjoy. I hold loom weaving classes in my studio in the winter months and basketry classes between May and October. I always learn from my students as they learn from me.
For over forty years I have exhibited and sold my work at shows, galleries and fine craft stores throughout Ontario, as well as at studio tours and the annual Ottawa Valley Spinners and Weavers Guild "Celebration of Textiles".