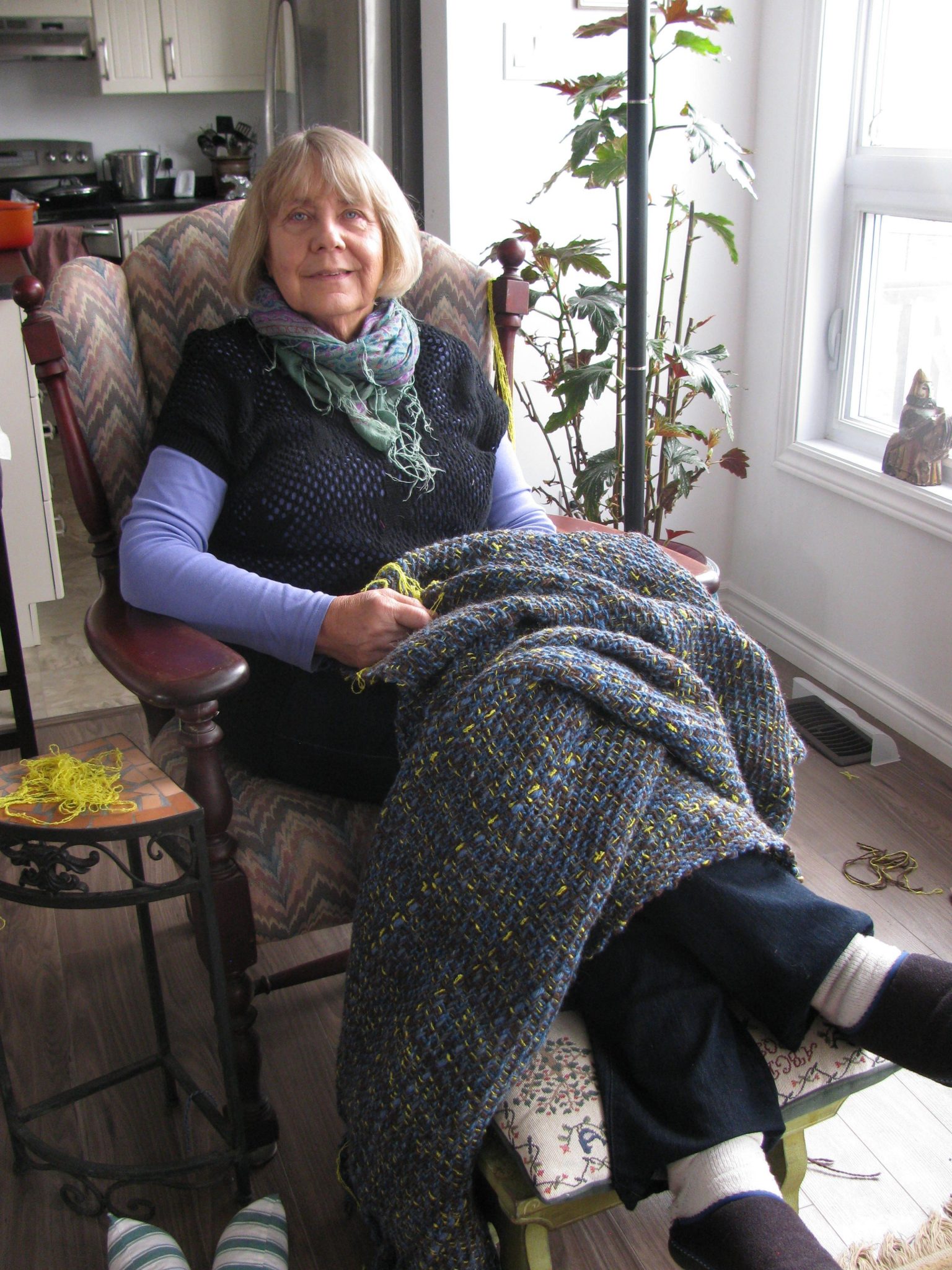 This is a little chapter on the complicated creative process that starts when I get an order from a client, as I want to celebrate completion of all of my outstanding orders but one. (Note to Nina, you are next!).
Many craftspeople and artists have spoken with me about how much trouble orders usually are, how much time they take, and how some will not even accept the often frustrating challenge of accepting special orders. I myself have mixed feelings about orders. It is a always a challenge for the client to communicate what they want and for the artist to attempt to "deliver". Always a challenge, though I must say there has only been one total "failure" in communication in all the years I have been weaving for other people. So the odds are good that the piece will work out fine. Nonetheless, there is a lot of agonizing thought going into each order, and its a self conscious process, second guessing each step.
Just a little vocabulary note for the non weavers. The warp is the lengthwise threads that are threaded into the loom. The weft or woof is the widthwise threads that weave through the warp to make the cloth.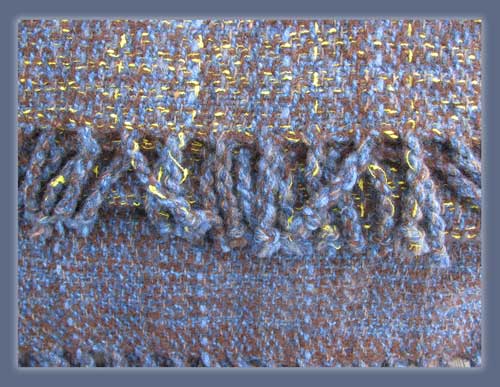 A client who had some beautiful brown yarn spun from her own llamas, wanted me to weave a blue and brown blanket for her son. I spent a lot of time finding just the right blues to compliment the natural brown colour of the llamas' wool. Tweed yarns helped bridge the gap.

Then, she asked me to just work some yellow threads in for a blanket for her daughter who loves yellow. Yellow? With Brown and blue? Yellow and blue I could see, yellow, blue green OK. Brown yellow orange is a tried and true, if somewhat dated combination, but brown, blue and yellow? She said encouragingly that she knew I could do it. I tried sort of a peach/yellow, sort of a mellow yellow. Not blending enough, not different enough. The mixture just looked very undistinguished. I finally settled on a bright yellow to "pop" out with no attempt to blend in with the blues and brown. Cindy Jackson and I had a long conversation about this. How long? You would be surprised. As the warp blue and brown warp was already rolled on to the loom, I added the yellow to the weft. And didn't like the finished blanket. There was no other way, so armed with a darning needle and long pieces of the yellow, I threaded yellow into the warp of the woven blanket.That took a lot of time. The blanket looked better, but still, adding yellow would not have been my first choice. At this point I told the client that she had to tell her daughter the yellow was all her idea.
And now I have moved on to the next order. A daughter wanted a wrap like the one I had made for her mother but larger, and in different colours. She helpfully sent a photo so I could see the height difference between them, and tried to explain what colours she wanted.She wanted it to be "dressy", to wear with jeans and boots. Well, I'll try..