Adding found objects to my baskets is a habit of mine, whether woven in or added after making the basket.
Last summer I found a flattened snake on the road near my uncle's cottage near Owen Sound. It was so vividly blue, I thought at first it was a zipper or something, but it turned out to to be a perfect but flattened snake with head, tail, etc., forever dried into a bright zig zag shape. It was so beautiful and I added it to the side of a basket. That basket created a mini sensation at the Twist Festival last summer ("La Serpente!"), where it rapidly found its new home and owner.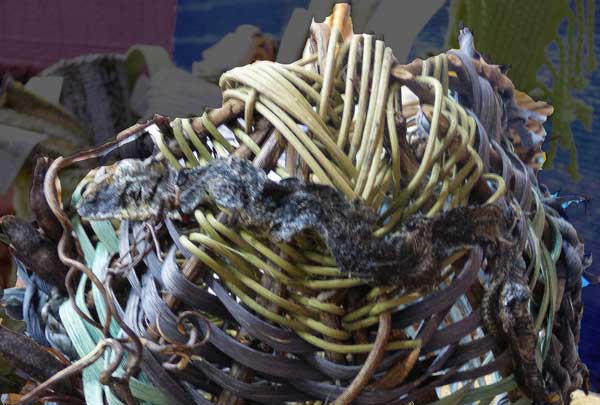 I always love the plants and seed pods and trees that I find in Alabama. What a beautiful ecosystem. The tall and skinny Longleaf Pines drop 18 inch needles that dry to deep shades of brown. The lovely Lotus seed pods line the lakeshore. Magnolia seed pods lie scattered under the towering magnolia trees, also native there. They all looked sort of familiar to me when I first arrived and I could not imagine why that was so. One day the penny dropped, I had retained in my brain images from William Bartram's drawings, and then I met the plants in real life. Bartram, a naturalist, wandered all through the southeast in the late 1700s, recording the plants, birds, animals and native peoples he discovered.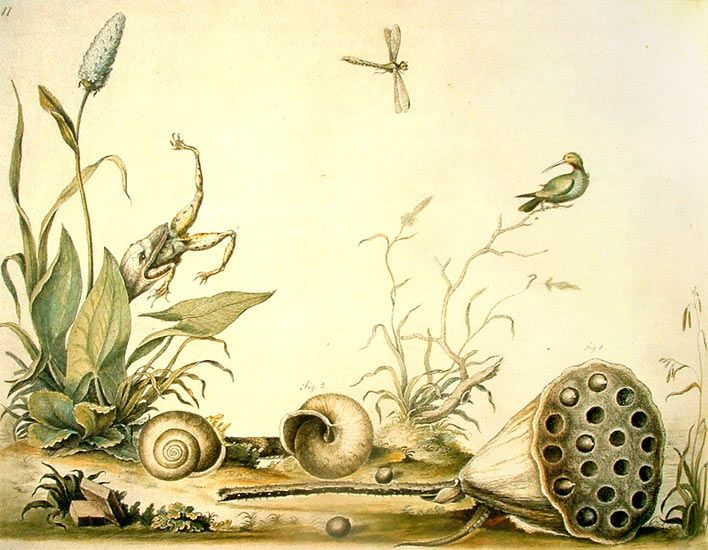 When Marie-France Gosselin approached me about participating in a three-woman show she was organizing at Wabi Sabi, during the Hintonburg Happenings, May 1-10, 2015, that turned out to be the impetus for me to actually make some baskets I had been thinking about, referencing the rich life and history of the South East.
There is a long tradition of coiled pine needle baskets throughout the South East. Aboriginal peoples, transplanted African Slaves and vacationing holiday makers have used these materials and techniques through the ages. Most often seen these days are carefully created patterns of stitching that rise up and over the baskets. I choose to use scattered lines of threads, looking like tracks or scratching, so the basket looks like it somehow just came together naturally. I like to use linen thread for connecting. For one basket I used some fishing line I discovered on the shoreline as well as some bones I found near by. It's a basket for which all the components were discovered adjacent to each other – always a creative concept.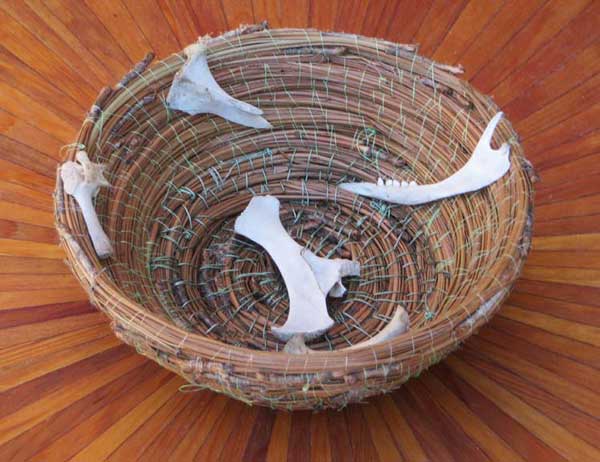 As well, I made a cardboard basket from a box that once contained silly "cooler" drinks that I bought at a food store. It always seems so surprising to me how casual alcohol sales and consumption are in the south, even "drive throughs". So lighthearted, cheap, easily accessable. Nothing like Ontario. It seemed to me that Marie-France would not believe a basket made from a cardboard box could be attractive or a worthwhile enterprise, so I made this one to surprise her. To me these kinds of baskets are like patchwork quilts, reusing materials that are no longer useful, and the finished article CAN hopefully be beautiful, useable, or a "statement".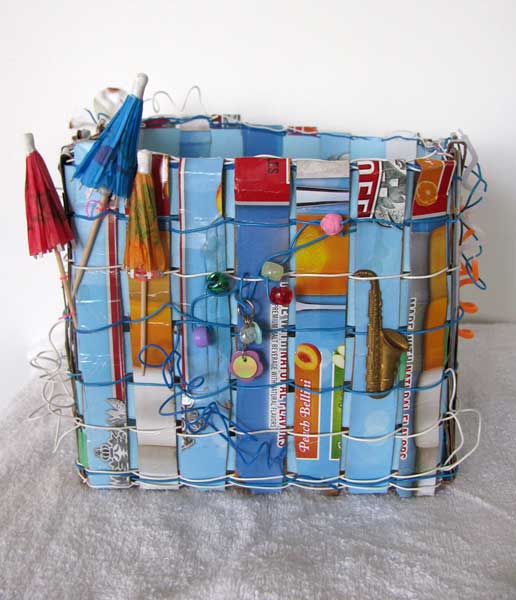 Once underway, I enjoyed realizing my concepts in a three-dimensional format and it was satisfying to work through a theme for once, one that uses a geographical  area I have been enjoying for several years now. I guess this is my non-judgemental way to share my Alabama with all of you, warts and all, its beauty as well as its darker side.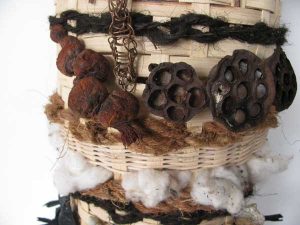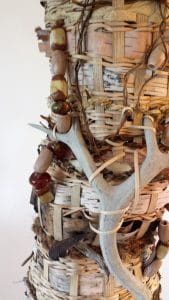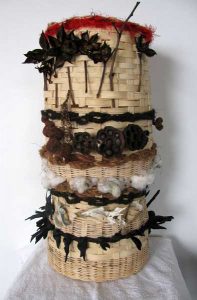 This Basket is called Sea Island Cotton.