An order for a wallhanging for a ski chalet in Ferny B.C. was a thought-provoking project. I was reminded of all the other wallhangings I have done over the years, and how I had not woven one for a while. Here is one from the past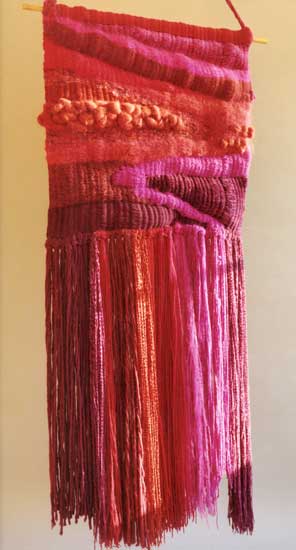 In the past autumn I had gone to visit a customer to talk about a totally different kind of order and was surprised to see a large hanging I had made many years ago, one I had forgotten about, but one that really pleased me when I saw it again. That gave me confidence to begin this large project.
The client had come to my studio in Ontario to look at yarns and talk about colour. I was excited about using a colour dynamic that was new for me. Orders always are a bit of a stretch!. This one would use more colour combinations than I would have chosen.
I packed the fleeces, rovings and yarns for my winter in Alabama.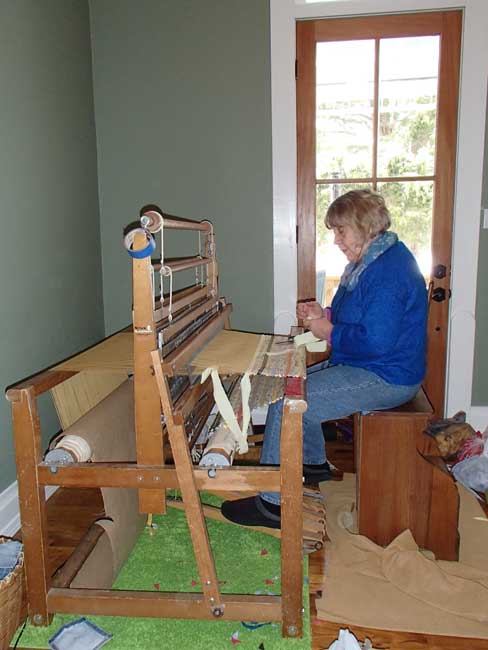 The loom did not seem to fit anywhere but in the large, drafty, centre hall, by the front door. The ceilings were 18 feet high and the door that this window is in was easily 10 feet tall. It was not perfect, but it was a place to work. It Was a Very Cold Place to Work.
I wove the hanging, but turned it on its side, adding yarns for fringe to match the roving and unspun fleece portions. This fringe was from coloured yarns in my collection, carefully chosen to continue the colour lines. This part had to be done when I got back to Ontario, as I had not thought that far ahead in my packing.
I found all the techniques came back to me as I worked, and I was pleased with the finished piece, especially how the many colours worked together.
I did wish I had continued to weave a backing out of plain cotton yarn, as it would have been a neat and tidy finish, but that is something that would never matter to someone who saw the front! That would be the majority of people, but I always like finishing details to leave a calm, controlled impression, after the somewhat frantic, tense creative processes are done.
Here it is, finally ready to mail out.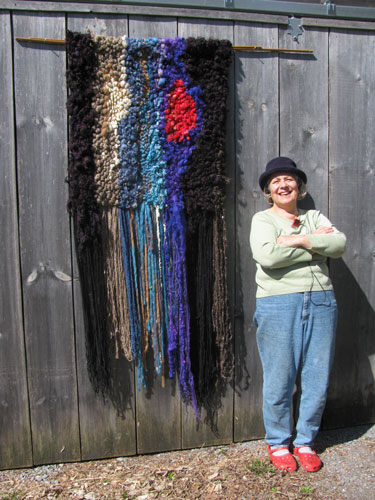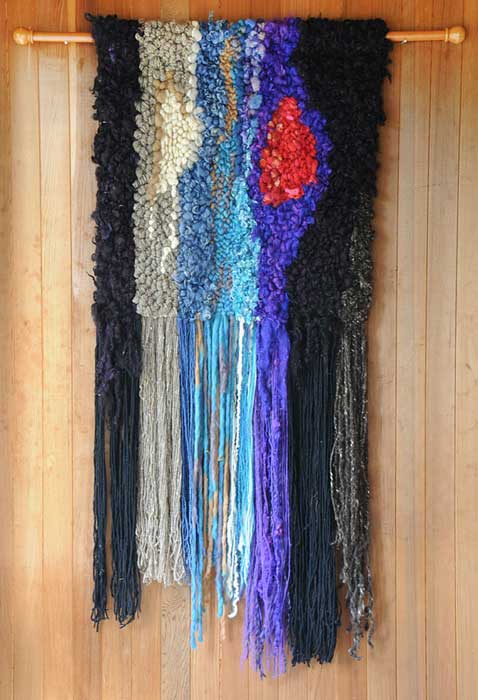 Both the client and I were very pleased with the final product.