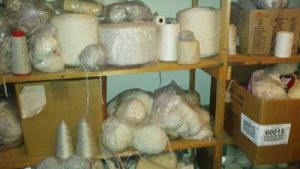 For the second time in my weaving life, I was asked to make a shawl for a bride planning an autumn wedding. The first time it was for a young woman I met while sea kayaking from coral atoll to coral atoll in Belize. Somehow, she decided to entrust me with a shawl for her special day after that experience. Her dress was sort of a champagne colour, she sent me a bit of cloth, and I used off-white yarns with some thin yarns in rust and warm brown to give it some visual interest.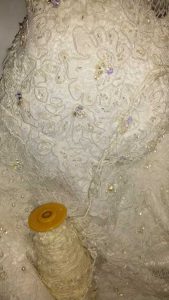 This second bridal shawl was for someone I have known for a long time, someone who trusted my work completely. Didn't make me feel any more relaxed about this undertaking. First task was to choose the yarns. The bride's dress was loaned to me for a few days so that I could choose the right white yarns. No easy task. There are so many whites! I think white is even harder to match than greens, a previous challenge.
In bright sunlight, the truest light, I matched each yarn right against the dress. I wanted to add a bit of sparkle as well. Bright, what I think of as bleached white, is a colour I have not chosen to use before, so I had to dig through all sorts of yarns buried in my "white department.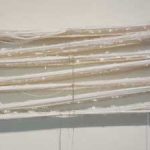 Surprisingly, I had very few yarns in that bright, strong white. But, with what I had, I decided to make 3 shawls and hope that one would be perfect. I planned to do one with a kid mohair weft, one with a cotton boucle weft and one with a bamboo weft. I usually try to make a different weft on every weaving project on a long warp. I really had no idea which one she would choose.
And so, the whole process unfolded. Shawls were woven. On to the time-consuming finishing techniques, washing, sort of a "controlled shrink" to pull the yarns together. (I hate weaving where the threads "pull" easily, threads getting caught on external elements. I also do not like a weave where one can stick a finger through the cloth. I am always trying to make a weave that is soft and drapes but is not stiff.)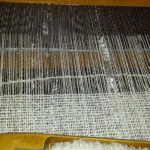 Fulling is always a nerve wracking procedure, I want a tight weave, but not a matted or stiff finished product. I consider temperature of the water and length of the agitation. I stand by the washer, checking every few minutes, until I like the result. Then, fringing, and trimming, etc.
Much to my surprise, I also found a small scrap of white cloth in my studio, woven a long time ago that I also sewed into a small and fancy poncho. The bride to be now had four pieces to choose from. She choose the shawl with the bamboo weft. Bamboo is, counter intuitively, a very soft and elegant fibre, the shawl draped beautifully and, after all, was the perfect choice.